Within the past year or so, it seemed as though every corner of the Internet suddenly burst forth with a hyper gush of articles about the implications of the global shift from a majority rural to urban-dwelling population. Approximately 54% of us—this number is steadily rising—now call a city home, while in 1960 that number was only 34%. How will we accommodate these urban population swells?
There are those of us who contemplate urbanization through the social and economic factors that may contribute to a rapidly urbanizing population: lack of access to fertility education or the Harris-Todaro model of perceived economic incentives to urban migration, for example. While we wax on about the effects of anticipated versus actual wages in urban centers and the subsequent rise in slum population, a new city prototype has quietly arisen to capitalize on this widespread push for sustainable urban development: new, privately funded, planned cities which bleat tried and true urban buzzwords like "eco-city" and "sustainability" on their shining new city websites. But are these urban prototypes really eco-friendly? Are they really sustainable? And how can we know before these new cities are inhabited?
While it is catchy and certainly exciting to envision these high-tech, uber-green, self-contained new cities as real solutions to the inherent problems of rapid urbanization, it is imperative to understand the longstanding philosophical roots of the words that their marketing teams use to define and sell them. After all, as new cities, they need to attract fresh investors and heaps of new citizens in order to succeed.
The marketing campaigns for new planned cities like Konza Technology City in Kenya and Masdar City in Abu Dhabi, for example, utilize the familiar language of eco-urban movements dating back to around the 1970s with words like "eco" and "smart" in their descriptions. When we trace the roots of the lingo, we begin to notice the inconsistencies in applying this nuanced—and vintage— terminology so liberally today.
In the late 1960s and early 70s, maverick urban notions began to infiltrate the architecture and design lexicon, such as Soleri's "Arcology" and Richard Register's "ecocity." In 1969, Italian architect Paolo Soleri published "Arcology—City in the Image of Man," an architecture and urban design tome that challenged traditional city concepts and suggested a new urban form unique in its symbiotic integration with the local eco-system.
Soleri thus launched the idea of a hyper-dense and self-reliant city that prioritizes ecologically responsible ideals such as waste reduction and water conservation through self-contained consumption and production cycles. His related city project, Arcosanti, is located in the desert climate of central Arizona.
Driven by a similar vision, urbanist Richard Register's 1970s "ecocity" urban ideal is efficient, ecologically sensitive, and founded on principles like community development and effective waste and resource management. Part of the larger "urban ecology" movement, the ecocity is entirely self-sufficient and community-driven. It was also intended to act as a restorative ecological force through sensitive urban design principles that encouraged the ecocity to gently blend in with its natural surroundings instead of bursting through the landscape like a smoggy, blundering runaway train. Arcology and ecocities are just two examples of urban forms that emphasize a holistic sustainability based not only on green technology and investment, but collaborative, low-impact design meant to merge seamlessly with the surrounding landscape.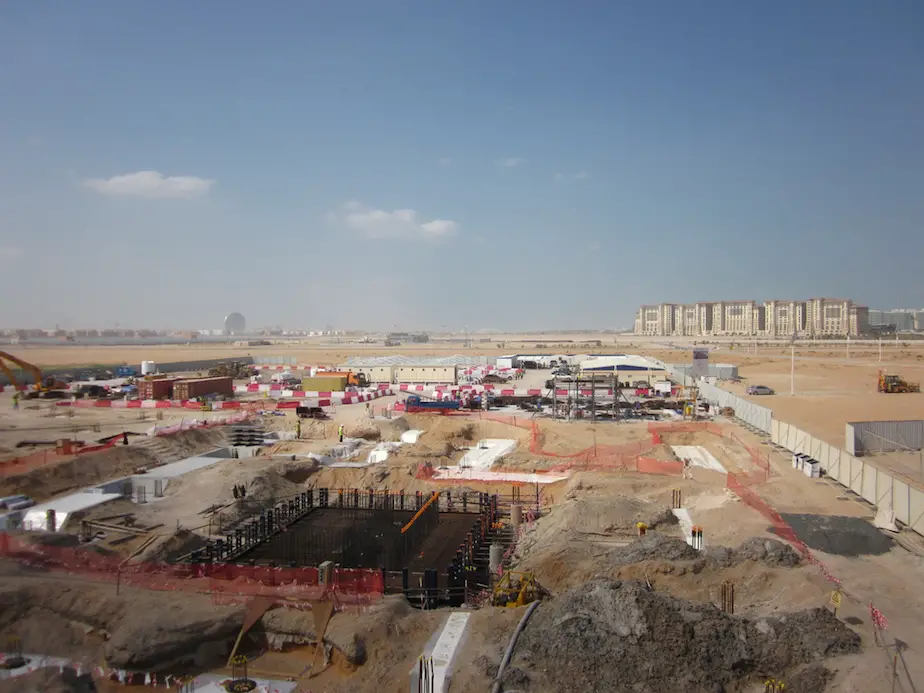 Fast forward to 2014: Masdar City, a privately owned and planned city in the United Arab Emirates, which only began construction in 2008, today aims to become the world's first zero-carbon city and calls itself a "greenprint" for accommodating rapid urbanization. Masdar indeed seems like an intriguing landscape for businesspeople eager to become involved in an ICT hub devoted to clean technology innovation, with illustrious partners like MIT and Siemens already involved in the project. However, is it truly an eco-city on the order of Richard Register's own "ecocity" ideal?
Though Masdar's website is eager to cite it as "the world's most sustainable eco-city," one is hard-pressed to find mention of community collaboration and social development, low-impact design principles, or anything that, as described in Register's original ecocity concept, would make Masdar "analogous to living organisms." Instead, Masdar is a gleaming and unabashed investor's paradise in the midst of a region known mostly for oil wealth and conspicuous consumption, as evidenced by the fledgling city's garish next-door neighbor, Ferrari World Abu Dhabi.
In an era where urban development has suddenly become a trendy topic, it's easy to understand why a new breed of privately funded cities with seductive advertising campaigns flecked with recognizable terms like "eco-city" has cropped up.
It's our responsibility as both members of this great global urbanizing society and consumers of space and urban design to think critically about the contemporary application of nuanced words like "sustainable," "eco," and "smart," particularly when we see them applied generously as advertisement for investor-oriented cities that haven't quite been populated yet.
Sophie Silkes is based in Montreal and writes about sustainable urban development, new cities, and urban inclusivity.
Images via Cody and Jan Seifert